Thousands of South Africans from all over the United Kingdom rallied together at Trafalgar Square on Saturday to make their mark!
London, United Kingdom – A patriotic buzz filled the chilly London air around the South African High Commission at South Africa House in Trafalgar Square; On the 27th April 2019 South Africans from across the United Kingdom traveled to London to have their say and cast a special vote in SA's 2019 National Elections.
"How privileged we are to be able to cast our vote abroad, and how utterly fitting that it fell on such an iconic day – Freedom Day… well played IEC!"
In an iconic setting between the High Commission, St Martin-in-the-Fields and with the National Gallery and Trafalgar square in sight, the passionate South Africans braved nearly 50 kilometers per hour winds that Storm Hannah brought in. Along with the wind brought bursts of tiny hair-like seeds from the easily recognizable London Plane trees that grow in abundance across the city.
Much like the elections experienced back in South Africa, many voters arrived in the morning hours – which produced the longest queues of the day.
"We stepped in line just after 10 am, and cast our vote at 12:30 pm– 2 and half hours well spent!"
With queues of South Africans brings a tremendous sense of comradery and purpose. There was a sea of South African colors as most of the crowd donned South African kit; KWAY jackets and of course Springbok jerseys were rife! The IEC and High Commission staff all proudly wore South African scarves and beanies, and even the local team wore our colors cheerfully.
While some voters kept to themselves and immersed their noses in a good book or Netflix series, the majority chatted to the 'Saffas' next to them – making new friends, finding out where each other had lived back home and how they came to be in London. Plenty of giggles and familiar lingo could be heard – putting a clear smile on everyone's faces!
"Many people eagerly greeted friends and colleagues, and I even bumped into a friend I hadn't seen in 11 years; a welcome reunion that will spark sharing a pint together in the near future."
The DA and ANC both brought their A game, handing out t-shirts and stickers while thanking voters for participating in this year's important National Election. Shosholoza was even sung to get the crowd going!
"And for the duration of the day, the opposing party's representatives playfully bantered with each other in harmony, a rare treat to see!"
A true South African also never misses an opportunity to show off their entrepreneurial skills… Jumbo South African Shop handed out samples of their biltong and dry wors at the halfway mark which caused many of the crowd to visit their store a few hundred meters away! Shopping bags full of South African goodies filled with Oros, Koo tinned goods and Simba chips could be seen! Hammer & Tongs – a South African restaurant in Farringdon offering braai platters and Cape wine – also handed out flyers, giving voters a 50% discount off their meals as a treat for Freedom Day!
When asking voters why they came out to vote – there was a strong consensus… because they still care!
"Many have family and friends back home, so they're voting for their sake, and to see a change affected across the country. It's however as clear as a sunny South African day, that although our feet may be on British soil now, our roots will always remain in South Africa – our birthplace. And we all wanted to do what we could – to come together for a clear cause and stand in unity, which radiates everything that we believe of our Rainbow Nation!"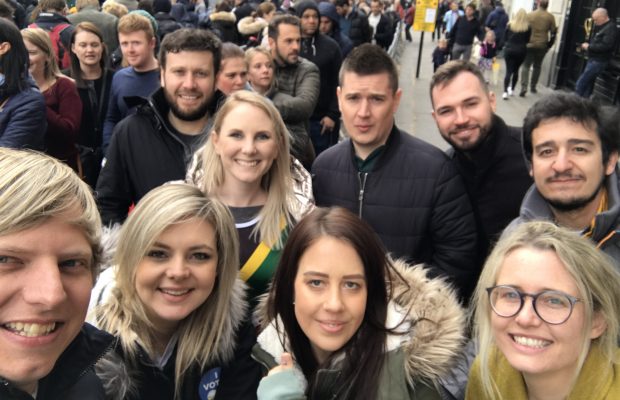 PHOTO CRED: LOUISE CAMERON
---
Free signup to our Expat Match …just click ExpatMatch.com now !!
---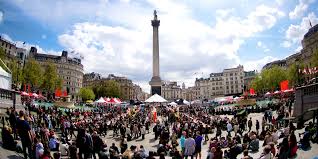 ---
Free signup to our Expat Match …just click ExpatMatch.com now !!
---
Would you like to advertise on this very popular website ?? Just drop me an e-mail at tersia@v.co.za, and I will tell you how !!
---